Built to bring the big surround sound theater and music experience into the comfort of your living room, the Polk Signature S30 center speaker continues in the Polk tradition of American HiFi. Featuring Hi-Res certification, a new Dynamic Balance designed acoustic array, precision cross-overs, an anti-diffraction grille, modern cabinet styling and exclusive Power Port bass enhancing technology, you get elevated sound for movies, TV and music in a totally re-imagined design. Polk—expect great sound.
Treat dialogue right
A center channel speaker is one of the most important parts of any surround sound system. Serving up crisp, clear dialogue, Polk's Signature S30 is a perfect match — both in terms of stylish looks and clean sound — to the rest of the speakers in the Signature series.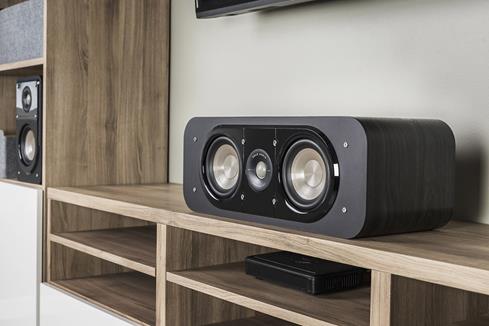 Built for smooth sound
The S30 is made with high-quality materials for natural, low-distortion sound. Housed within its cabinet is a 1″ high-resolution Terylene dome tweeter for clear, detailed highs and realistic reproduction of vocals. Two highly efficient 5-1/4″ Dynamic Balance® woofers are made of lightweight yet durable mica-reinforced polypropylene. The non-resonant MDF (Medium Density Fiberboard) cabinet and anti-diffraction grille provide an acoustically inert structure for reduced sonic interference. Polk's exclusive Power Port technology adds low-end impact.